Choir puts on annual Jingle at the J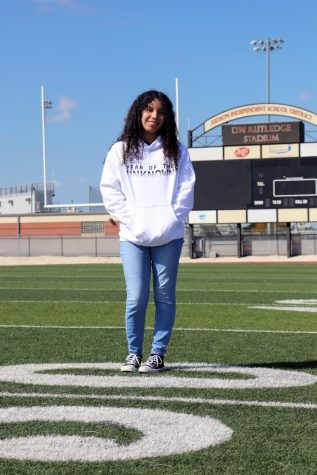 More stories from Jennifer Castillo
On December 17, the Judson Choir's annual Jingle at the J took place in the Diamond J. Choir students auditioned in November to perform solos or in small groups for their family and friends. The top 16 performances were chosen.
Freshman Kaya Beckman auditioned to try and get over her fear of performing in front of people. She sang Creep while simultaneously playing the ukulele.
"I was really scared. Afterward, I was shaking a lot but I feel like it [was] better than I thought because I always make things worse than they seem to be," Beckman said. "I was like, 'I'm gonna do so bad. I'm gonna forget the words again,' but I'm just glad I didn't. I'm just happy that it's done and I think I did pretty okay. I didn't forget anything and I didn't mess up the chords. That's basically all I was worried about."
For senior Rashon Hollis, this was his first year performing at Jingle at the J, even though he's been in choir for four years. He performed Rudolph the Red-Nosed Reindeer and the audience joined in and sang along with him.
"I haven't done Jingle at the J [because] I was shy. But I decided to give it a try this year just to have fun," Hollis said. "I decided to choose [the song] to have the audience interested in singing with everybody else. I thought it would be nice just to have a song to sing to my family and other families and have them involved in it too."
Senior Imani Peurifoy had originally planned to sing alone, but because of nerves, she then asked sophomore Lijah Finley to participate with her. On the day of auditions, junior Jasmine Jasso joined with them and together the three sang Do You Hear What I Hear. This year was the first year any of them had performed.
"I don't want to dwell on the bad parts that happened, 'cause I feel like I could always do better," Finley said. "I'm gonna say that us as a group, we really did a wonderful job mixing our voices and sounding wonderful."
Alumni Brian Mccrary, a graduate from the class of 2018, came back to experience high school again for a brief moment. Mccrary is currently attending Texas A&M University as a freshman.
"You build a connection with the people you have here and it's just nice to be back," Mccrary said. "I miss y'all a lot. Judson is an amazing school to be at."
Choir teachers Mr. David Short and Mrs. Tiffany Cristo performed their own song that they mashed up from two different pieces. Together, they gave a silly and humorous performance.
"We took the words of The Night Before Christmas and we put it to the tune of the Monster Mash from Halloween. Last year, we did My Favorite Things, made them the choir director's favorite things, and we wrote new words for that. So, we typically do something funny," Short said.
Jingle at the J takes place every year in December at the Diamond J, hosted by Short and Cristo. Family, friends and the community, are allowed to come and enjoy the performances and watch the choir students sing.