Continuing a tradition of winning
The 43-year-old McAuliffe, a graduate of Judson, has been coaching for nearly half of his life, guiding and assisting young athletes to achieve their best as students and football players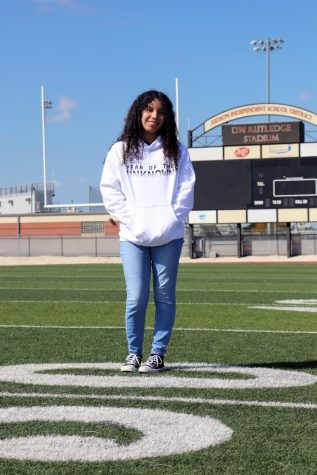 More stories from Jennifer Castillo
It can be intimidating to be in the head coach of a six-time state champion and football powerhouse program. The pressure to succeed is not only felt by colleagues, but by the community, city, and state.
The school itself has made a name for itself because of our football program. No matter where you go in the country, someone around you has heard of Converse Judson.
Head football coach Sean McAuliffe is one of many who is in charge of continuing that tradition and reputation.
The 43-year-old McAuliffe, a graduate of Judson, has been coaching for nearly half of his life, guiding and assisting young athletes to achieve their best as students and football players. He is also the athletic coordinator of all campus sports.
McAuliffe has coached for a total of 20 years. He has coached at six different schools before coming to Judson High School in 2012. It is currently his seventh year at Judson and fifth year as a head coach. McAuliffe grew up in Live Oak and graduated from the class of 1993. He even played on the football team as a defensive tackle. For McAuliffe, coming back to coach for Judson was like coming back home.
"It's where I'm from and I [know] the traditions here. I still know a lot of the people in the area. It's kind of a once in a lifetime opportunity," McAuliffe said.
McAuliffe's unwavering ambition to make kids better people is what motivates him to continue coaching.
"I enjoy being around young people and I love the game of football. I think it's something that we were called to do," McAuliffe said. "You know, I care a lot about kids and try to help make a difference in their lives. I really like coaching football."
McAuliffe's desire to coach started early on when he was just a sophomore in high school and he believes that being a coach was always something he was meant to be.
"I just think it's what I was meant to do. When I was in tenth grade, I knew I wanted to coach football," McAuliffe said.
Besides football, McAuliffe enjoys hunting, going to the beach, and hanging out with his wife of nearly 20 years and their three sons. For the future, McAuliffe hopes to bring many wins for the football team and to continue impacting kids' lives.
"[I want] to continue to win, because that's what people expect us to do, and to hopefully make a difference in kids' lives."