Junior Lonnie Buck reflects on being a drum major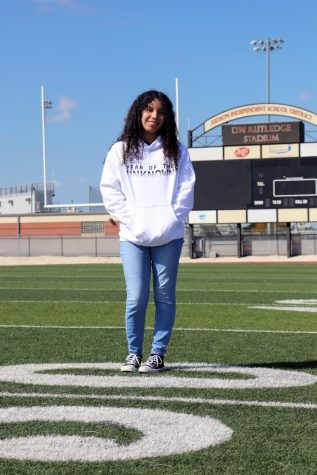 More stories from Jennifer Castillo
For the first time in years, a junior was chosen to be one of the three drum majors for the Judson marching band.
Junior Lonnie Buck has been playing in a band since the sixth grade. His first instrument being the bassoon, then tenor saxophone in his freshman and sophomore years. Now, he's in the front, conducting for the band,
Originally, during his sophomore year, Buck had planned to become a tenor sax section leader or a junior drum major. Unlike drum majors, junior drum majors do not conduct the marching show.
"I was like, 'I'm gonna try out for section leader. I'm gonna try out for junior drum major, and then hope from there,'" Buck said.
The tryout results came as a surprise since he ended up getting a drum major position. It turned out that he had done better than he initially thought.
"I freaked out because I really wasn't expecting [it], but it was an amazing gift," Buck said. "Seeing that I made drum major, it was like—I think I freaked out crying and screaming and called my mom. It was really amazing."
Of course, being a drum major comes with new responsibilities.
"At the beginning of the season, I didn't know what I was supposed to do. I was like, what's a metronome? What's a speaker? How do I conduct? But as the season went on, I got used to my responsibilities, so it got easier," Buck said. "We are in charge of a whole lot. We have to run rehearsals and obviously, the conducting thing—which is what everybody sees."
Buck's family and friends are supportive of his role as a drum major as it takes up a majority of his life.
"It takes up all of your time. You're constantly practicing. You're constantly rehearsing. It takes up a big part of who I am," Buck said. "My parents have always loved it. They're really proud of me, and my brother thinks it's cool."
Although the band has changed his life greatly, Buck is passionate about visual arts and wants to pursue animation.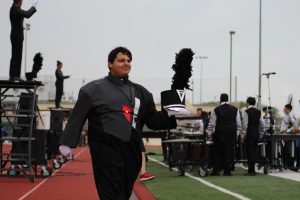 "After high school, I'm wanting to be an animation major, so I wasn't planning on doing band," Buck said. "It was a small hobby at first and then it became the most integral part of my life, but I have a really big passion for visual arts."
For his senior year, Buck plans to try out for drum major once again.
"Being a drum major isn't anything negative to me at all. It's all been about having fun, motivating people. You're just helping everyone at once and that's all I ever wanted to do," Buck said. "It's definitely been a positive thing. It gives me a better reason and an outlet to do good for people."