Mr. Charlie Smith has spent his entire life in Judson ISD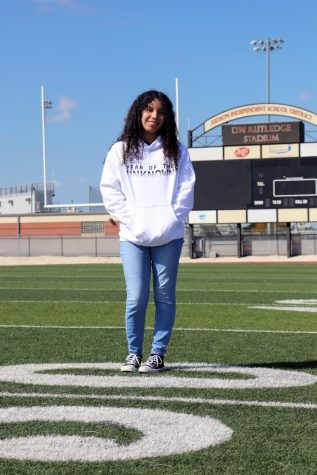 More stories from Jennifer Castillo
'Never forget your roots,' they say.
But what if you've never left them?
Mr. Charlie Smith is a coach for football and baseball, and also an art instructor for Art 1, Drawing 2, 3 and 4. He has been teaching for seven years, coaching for six and working at Judson High School for five years as of now.
However, he's been within the district all of his life.
Smith grew up attending schools in the district and graduated as a Judson Rocket from the class of 1988.
"I went to Coronado Village Elementary, Olympia Elementary, Kitty Hawk Middle School, and then I [went to] Judson. When I started working and teaching, I worked at Kitty Hawk, then Elolf, then Kirby, and [now] here," Smith said. "I've literally been in this district all of my life."
Despite that, becoming a teacher and a coach was not always the plan he had in mind.
"I was going to do advertising and that was it. That's all I was concentrated on," Smith said. "I liked sports, but I had never planned on coaching or anything like that."
Smith went on to pursue advertising for nearly 20 years. And to this day, he still runs an advertising business on the side that he does at home. It was when he became a manager that things started to change.
"My mom was the one that always told me I should teach. I told her, 'Whatever, I'm not teaching.' Then, what was funny, is when I was in advertising and I became a manager, I was the one training all the new employees, so I was basically teaching them," Smith said. "I started getting that feeling, like, 'You know what? Maybe I should teach.' So then, I went and got my teaching certificate and now I'm in love with my job."
Smith's passion for art began early, he also went to school for it.
"I started drawing, the earliest I remember, was third grade. You have the talent in you, it's just whether you use it or not, so that's why I went to school for that," Smith said. "I've taken art all my years when I was growing up in school and then in college. I have three degrees—they're all in art."
As for sports, Smith played sports and stopped when he got into high school.
"I got into coaching because my son started playing sports and the coaches that he had kinda quit on him. So, the parents asked me to start doing it. I ended up starting to coach every single sport my son's ever played," Smith said.
Smith has two children—a twin boy and girl who both are currently freshmen.
"Since they were born, I've told their mother 'I want them to graduate from Judson just like we did. I want them to be Judson Rockets.' That's all I've ever wanted. And you know what? They're Judson Rockets," Smith said.
Smith's job as a teacher and coach has affected him as a person by making him a more outlooking person.
"It's made me more positive because I'm happier. I look forward to waking up in the morning and [coming] to work," Smith said. "If you love your job, you're gonna be happy. I'm happy. I'm very happy. Every day."
Smith enjoys talking to people every day, and shares that every day is a new day for him. He will continue to work as long as he's able to.
"I have my dream job. I'm teaching my passion at my alma mater and being a part of the football program in which the history is still going. It's never going to falter," Smith said. "When we're on our breaks, it drives me crazy. I can't stand summer breaks; I would rather be here. I will stay here until the day I can't teach anymore."