Olympic champion Sanya Richards-Ross visits district's girls' track teams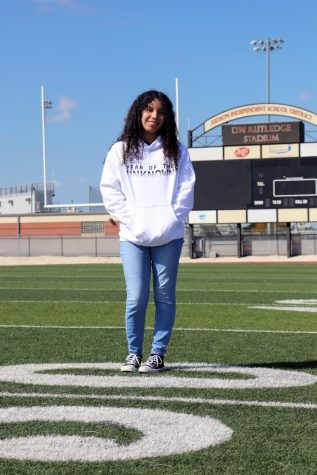 More stories from Jennifer Castillo
On Thursday, October 17, Olympic champion Sanya Richards-Ross came to campus to speak and share her experiences with the district's high school girls track teams.
Being a four-time World Outdoor 4×400 gold medalist, a six-time USA Outdoor 400m champion, along with winning several other awards, Richards-Ross is also an entrepreneur, TV personality, public speaker and humanitarian.
Richards-Ross grew up in Jamaica, where she first fell in love with track as a child. She was 12-years-old when her and her family migrated to the United States for more educational opportunities. 
"I always say I got the best of both worlds: growing up in Jamaica, young, the coaching I got there, learning what it meant to be disciplined and determined at a young age, and then coming to the United States and working with some of the best coaches in the world," Richards-Ross said.
A major foundation set for Richards-Ross in Jamaica was that her parents were serious about school. Because of that, she always did her best to achieve high grades, graduating in the class of 2002.
"I could be the best on the track, but it was always more important to them that I was the best in the classroom, so in high school, I maintained a 4.0 GPA," Richards-Ross said.
Richards-Ross was fortunate to get a scholarship to the University of Texas, being the graduating class of 2006. She won the NCAA national championship in the 400m event in 2003 and made her first Olympic team at age 18 to Athens.
"It was just amazing. I knew I always wanted to go to the Olympics, but to go to the birthplace of the Olympics, it was really special. There's such a rich history there and I got to be a part of something I always dreamt of. I finished sixth in the final and I won gold in the relay team," Richards-Ross said.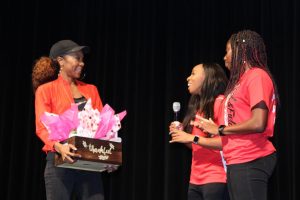 Richards-Ross broke the US record and won World Athlete of the Year in 2006. She was heavily favored to win gold in Beijing in 2008 as she was undefeated in the 2006 season. However, it may not have been meant to be. She finished third.
"I felt like I failed. The one race I wanted to win, I lost. I came back and won gold in the relay which was awesome, but that wasn't the dream I had when I was nine years old—to be an Olympic champion. So I dug my heels in and worked even harder," Richards-Ross said.
Richards-Ross became the first American woman in 28 years, and the second in history, to be Olympic Champion over 400 meters at the 2012 games in London, and it set the stage for her to become the second most decorated female track and field Olympians of all time, according to her website, SanyaRichardsRoss.com. 
"It was like running into my fairytale in 2012 when I finally crossed that finish line first," Richards-Ross said. "For me, I feel like when you put your heart into something and you achieve it, you feel like you can accomplish anything. The confidence I got from that I carry on to everything that I do now."
It was the idea of head girls track coach Christina Holland to bring the inspirational athlete to campus.
"I think it was amazing to have an Olympic gold medalist come to little Converse, Texas and come speak to our girls who share the same dreams. I think it was very important for them to hear the advice she had for them, and I hope they have some good takeaways and that they apply it to not just track, but to life," Holland said.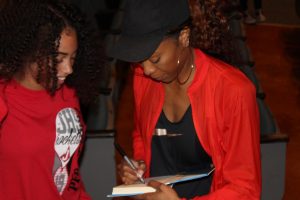 After sharing her story, Richards-Ross did a question-and-answer session with the track girls, took pictures with them, and signed their copies of her book, "Right on Track: Run, Race, Believe."
"Being able to meet an Olympian and [hear] what she went through was really awesome," senior Island Blanche said. "The main thing that stuck out for us girls was: 'Succeeding comes from hard work and what we get and the confidence that comes from it.'"
Now as a retired athlete, Richards-Ross commentates for NBC, is still a Nike brand ambassador, and is currently working on a new show for FOX. She believes that the accomplishments she has achieved are due to hard work, determination, belief in oneself, and a great support system.
"Hard work, staying focused and determined always pays off whether it's on the track or off the track," Richards-Ross said.
The girls' track and field teams left feeling inspired, happy, and ready to face challenges because of Richards-Ross motivating words in both her book and her speech. Holland hopes that with their newly gained insight, they'll head into the season strong.