Senior Jeselle Aguilar wins Talent Show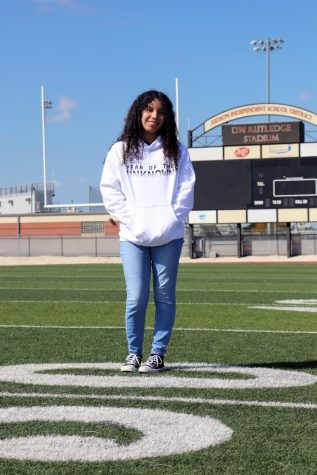 More stories from Jennifer Castillo
On February 21, Judson hosted their annual Rocket Talent Show directed by the junior and senior class officers, along with class sponsors Mrs. Machuca and Mrs. Tubbs.
The show took place at the Performing Arts Center, where 11 students showcased their talents on stage.
Senior Sofia Gallegos, who sang "Make You Feel My Love" by Adele, has been singing for most of her life and was surprised when she learned that she would end up performing at the show.
"I was shocked because I was kinda thrown into it [by] my friend Madison, but I'm excited and scared. I've haven't performed in front of a big crowd in a long time, so it's nerve-wracking," Gallegos said.
For senior Madison Ruiz, being in the talent show was always something she had in mind for years, before finally deciding to audition. Ruiz performed "Somebody to Love" by Queen.
"Each time I say I'm going to do the Talent Show, I'm like, 'There [are] three days to audition. I'll audition the first day.' Then that day comes, and I'm like, 'I'll audition the next day. I'll audition next year.' So, that's been the story of my life for six years," Ruiz said. "But I figured since it's my senior year, I might as well try it out."
Freshman Alexander Jones sang "And I am Telling You I'm Not Going" by Jennifer Hudson, a song from the musical and movie Dreamgirls, and hoped to embrace the song's meaning in his performance.
"In the movie and the musical, this was the part where they told her that she wasn't going to be [anything] in her life, but she was basically telling people to reach for their dreams," Jones said. "That's what I'm hoping that I can embrace through this talent show."
During the intermission, the counseling team performed "What About Your Friends" by TLC. They danced while also sending out positive messages with posters to the students such as resisting peer pressure, going to class, and graduating.
"Mrs. McClellan, one of our counselors, has been wanting to [be in] the talent show for the past two years. We just talked about it and laughed and never did anything. We said, 'Okay, whatever,'" Ms. Hitomi Wilson said. "This year we decided to go ahead and do it just so she can get it out of her mind, but it actually ended up being so much fun that we want to do it again. Now we're going to plan for next year."
At last, third place went to senior Richard Lewis who sang "Your Man" by Josh Turner. Second place to freshmen Mari'ana McDaniel who performed Khalid's "Location." First place was awarded to senior class vice president Jeselle Aguilar who sang and played the guitar to "Best Part" by Daniel Caesar.
"I'm honestly just really excited and grateful for this opportunity especially because it's my senior year," Aguilar said. "I think [the show] went really well. There was a bunch of different talented acts and it was cool to see everyone showcase."
Overall, the show was filled with singing, dancing, and most importantly, talent.
"What I liked the most about the show is that there was a lot of people who don't normally do this type of thing. This was their first time doing it," Machuca said. "So, were they a little bit nervous? Were there a couple hiccups? Yes, but they did it and I think that it overall went great. I was really proud of them for being so brave."