Senior JohnPatrick Gonzalez heading back to native Philippines for college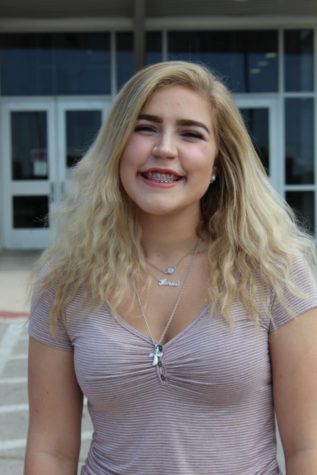 More stories from Hanna Perkins
In November 2012, JohnPatrick Gonzalez moved to Texas from the Philippines. Coming to the United States was life-changing. He experienced new things, saw many cultural differences, learned about how different the lifestyle is here, and especially figured out what he really wanted to do in life. After his experience in America, he has decided to return to his homeland to pursue his post-secondary life at Columban College.
"I've been here for eight to nine years now and I like it, but the community and environment are different. My first day in Texas, there were cars moving around outside and it was just different. In the Philippines, waking up at six or seven a.m., there are kids running around the streets, playing games, going to school, and just walking around," Gonzalez said.
With moving to a completely different place outside of his home country, Gonzalez was able to experience new cultures and a different set of surroundings.
"Over here, it's cool, Everything's nice. There's a lot of culture here mixed up together and that's different from the Philippines. It is rare to see a Mexican, Korean, or any other ethnic group. It's all just Filipinos'. The culture over there just sticks to one thing," Gonzalez said.
In the Philippines, Gonzalez mentions how the people there are social within the community and very adventurous, contrary to the vast majority of the people in the United States that tend to be more introverts and addicted to technology.
"There are always kids playing outside and even canyoneering, which is where you go up the mountains and dive off the cliff. It's more fun in the Philippines because there are always fun things to do," Gonzalez said. "Last summer, I went island hopping."
Being here for a few years now, Gonzales mentions not only missing his home country and its' cultural aspects but more importantly, his family. As he has had the chance to experience many different things, he has been able to enjoy his time here and found out more information in the sport he is passionate about during his experience here.
"In my surroundings, I feel safe around here. I like being here with my family, my dad's side of the family, meeting new people, and basketball. Basketball here is different than compared to over there. They play for fun like freestyle, to determine who is the MVP of a pickup game or a five on five games. Over here, you can become big at a high school level. And that's crazy," Gonzalez said.
Gonzalez has been playing basketball since he grew up. It has really influenced and inspired him to want to pursue a career in it.
"Basketball can change your ways. I used to have bad habits such as in school. I would always joke around and I didn't take it seriously. But once, I became a student-athlete in middle school to freshman year, school was always important. Without school, I wouldn't be able to play basketball. And without basketball, I wouldn't be able to meet a lot of people. Basketball is more to me, it's basically my dream," Gonzalez said.
Going back home to the Philippines wasn't in mind at first for Gonzalez, but he is definitely hopeful and excited for the chances it can bring.
"I'm going to the Philippines for college. It wasn't really the plan, but it's an opportunity and an opportunity that means a lot. I get to show people what I know, what I have, and hopefully my dreams come true because basketball is everything to me," Gonzalez said.
Dreams can be hard to come by with the choices that come with them, but when Gonzalez was given this big opportunity he couldn't pass it up.
"It's hard for me because I'm leaving my mom, my dad and a lot of my family will be here. I'm basically sacrificing myself just to chase my dreams. Don't get me wrong, I'm scared to go back over there because I'll be by myself with my brother and I know he's gonna take care of me. However, being alone without your mother is hard and scary," Gonzales said, "It's stepping out of my comfort zone, but I think it will be good over there. I'm looking forward to computer science or computer engineering as well," Gonzalez said.