Agriscience students get hands-on experience with program's grooming service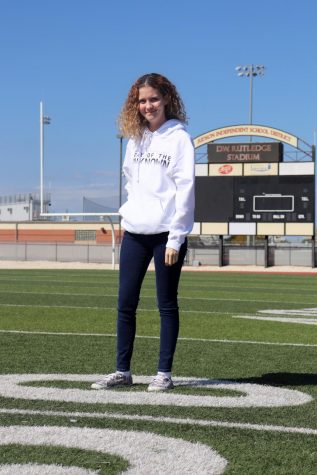 More stories from Camille McWhirter
Everyone wants their dog to be clean and tidy, so agriscience teacher Ms. Lauren Henderson brought the concept to school. 
The main purpose of dog grooming is to have students experience interacting with a variety of dogs and their personalities. 
"Students get first-hand experience with the dogs and also learn a valuable skill that could lead them into a profession in the future. I have one former student that has actually become a certified groomer from having taken this course and enjoying the profession. Students will also learn how to do their own dogs for the future even if they do not continue as a profession," Henderson said.
The course started off small but gradually grew into what it is today.
"Judson Dog Grooming started in the Fall of 2012 and has been growing since. We started with the kennels being housed in the aqua-lab and a water hose outside and has now led to our own area in the lab with a professional stainless steel grooming tub," Henderson said. 
The courses offer valuable skills for students who wish to work with dogs.
"A couple of the courses that students can take are small animal management and veterinary science courses. The small animal class is where we start the grooming process and the students learn how to groom dogs. For the most part, we do baths and we will shave animals," Henderson said. "But we are not licensed groomers, so this is all student work as far as the grooming goes.
Despite not being trained veterinarians, they do take notice of any problems relating to the dogs.
"If any animals have any problems like an ear infection or anything, we try to notify the owner so that they are aware of those issues when we see them," Henderson said.
Experience with dog grooming happens to be an important part of learning how to deal with dogs, and in turn, other animals.
"I started this because of the need for hands-on experience with dogs and to gain a valuable skill. It is one thing to learn about textbook animal behavior and to have hands-on experience with a live animal.  It also helps in the future when they get into vet science because – before the grooms, the students learn to listen to the heart and lungs with a stethoscope, look at the eyes and ears with an ophthalmoscope, and take a temp. This is crucial in understanding the basic health of an animal," Henderson said.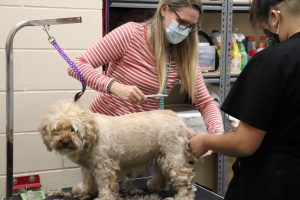 Henderson has a reputable background in the occupation field, with plenty of experience.
"I started as a kennel technician when I was 17 years old, which led to me becoming a Licensed Veterinary Technician. I was in the field for 10 years total before I became an Ag teacher and stayed in the same line of work on the teaching side," Henderson said.
A love for dogs, and animals, would be an understandable requirement for those in this field of work. 
"I do have a deep love for all animals. I just love having people's pets here and to see how proud they are of them. Oftentimes, those that have their dog here will bring other staff members down to see them too, which is nice to see the interaction of owners and their colleagues," Henderson said.
And, not to mention, there is no sign of dog discrimination.
"All dogs are welcome," Henderson said. 
To get your dog groomed, all you have to do is submit a form and a required vaccine status. The grooms take place in E129, scheduled on Mondays and Thursdays, with the drop off at 8 am and pick up at 4:30 pm.
—-
If there are issues with this article, report it here.