Mr. Rory Hoxie, US History teacher, awarded Distinguished Educator of the Year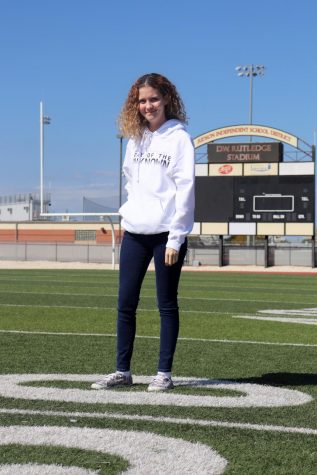 More stories from Camille McWhirter
This year, in his 14th year of teaching, AP US History and US History teacher Mr. Rory Hoxie has been awarded Distinguished Educator of the Year. 
"I was surprised, very pleased," Hoxie said. "I think my students have worked really hard and I think this is a reflection of what they've accomplished."
During his college life, Hoxie preferred the more academic side of college. 
"I attended UTSA. While I enjoyed my classes, I was a non-traditional student and didn't do a lot of the 'college experience.'  I went to college after serving in the military, was married, and worked," Hoxie said.
Every teacher has his or her favorite aspect of teaching. For Hoxie, like many teachers, that lies within his students. 
"Seeing my students exceed is my favorite aspect of teaching. When I go to places and I have students who approach me and they want to tell me how they're doing, it makes me happy. It's honestly strange that I see them all over the city," Hoxie said.
A teacher's strategy and how effective it is, is key for their students' success, and Hoxie's seems to be working well.
"I think the biggest thing I try to do is encourage them to be successful. If they believe that they can do it, then they're going to be able to accomplish a lot more," Hoxie said. "We deal with a student population that is underserved, underprivileged, with a lot of economic issues and family issues. And a lot of times, they don't do good in school because they don't think that they can do good. So, [it's important] to build up their confidence and I think that has worked very effectively," Hoxie said. 
Hoxie's dedication to his students' seems to be his main drive to do even better as a teacher.
"I have learned a lot from both my students and how well they performed. I always try to modify and change what I'm doing to make sure they're successful, both in and out of school. I hope this will teach me to do even better, for my students' sake. They're the ones that are passing AP tests and going to good colleges and doing great things. It's really what I want to see," Hoxie said,
For some people, balancing work life and home life can be difficult, but Hoxie makes it work.
"As I consistently tell my students, time management is crucial. I try to be as efficient as possible because my family is very important to me.  I leave the house when my wife, who is an elementary teacher, and daughter leave. This gives me more time in the morning to focus on school and keeps me from taking work home with me.  My wife and I are going to hit our 25th anniversary this summer, my son just started college, and my daughter just started martial arts. My faith, my family, and my students are what makes life great," Hoxie said.
Hoxie has proven not only with words but with his caring and smart actions towards his students and career, that he deserves the Distinguished Educator of the Year award completely.